Improve Your Practice.
Our movement method and signature style combines Classic & Contemporary Pilates for a modern approach that's challenging and fun.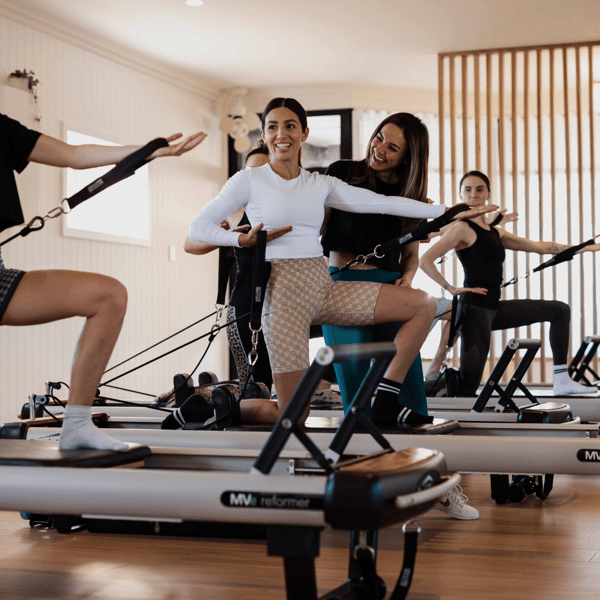 Signature Reformer
Feel muscles you never knew existed with our Signature Reformer classes.
Using exercises from the Classic and Contemporary Pilates repertoire, our Instructors spice things up with Sculpt, Strength, HIIT, Jump Board, Stretch and a variety of Small Apparatus to ensure no two classes are ever the same.
Our small group classes focus on creating length, strength and tone in your body and allow for tailored instruction and individualised care.

Stretch & Release
A sensory experience of mindful, restorative movement. This class is designed to slow you down, to nourish the nervous system and to mobilise and release areas of tightly held tension.

Strength & Stretch
This dynamic class is as much about 'working out' as it is about 'working in'. 30 minutes of Signature Reformer , followed by 30 minutes of Stretch & Release to recharge the body.

Duet
Our Duet and Semi-Private classes are perfect if you want to workout with a partner, friend or family member. Choose between our Signature classes or a more personalised program.

Prenatal
Safe and suitable for women at all stages of pregnancy, with a focus on preparing you for a healthy pregnancy, birth and baby, and a speedy postpartum recovery.

MUMS & BUBS
Everything you know and love about Bally with particular focus on core activation, pelvic floor stability and post-partum health. BYO Baby under 12 months old.

Pilates & Prosecco
We work hard and play hard and we work a little harder during this higher-intensity session to ensure the sparkling tastes that much sweeter.
What are you waiting for?
Experience the Bally Pilates difference and live in a body you love
Book Now